News | Webinar on Portugal-China Debt Collection (Oct 2022)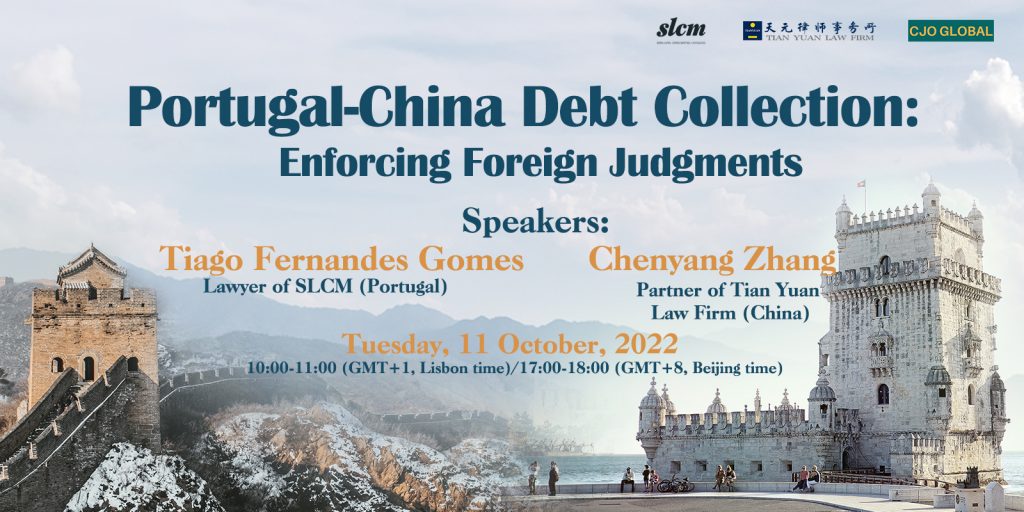 In cooperation with two law firms from Portugal and China – Serra Lopes, Cortes Martins & Associados (SLCM) and Tian Yuan Law Firm, CJO GlOBAL organized the webinar 'Portugal-China Debt Collection: Enforcing Foreign Judgments' on 11 Oct 2022.
This is one of the 2022 Webinar Series themed on the landscape of international debt collection in China and other countries.
During the webinar, Mr. Tiago Fernandes Gomes, Lawyer of SLCM (Portugal) provided a general view of the framework of judgments enforcement in Portugal, and then explained the main procedures of the review of foreign judgments and enforcement proceedings. In particular, he analyzed the main requirements for confirmation of foreign judgments, and highlighted the 'swift' and 'affordable' – the two features of foreign judgments enforcement proceedings in Portugal.

Mr. Chenyang Zhang, Partner of Tian Yuan Law Firm (China), presented the general legal framework and the new trends from 2022 in enforcing foreign judgments in China. He discussed the key requirements for judgment creditors to collect foreign judgments in China, and shared his insights on the latest practices in the field of Portugal-China judgments recognition and enforcement, calling on cooperation among legal practitioners in both jurisdictions.

In the Q&A session, two speakers answered the questions from the audience, covering topics like online court proceedings, interim measures/preservation measures, and the related cost and time, in both Portugal and China.