Germany-China Debt Collection: Enforcing Foreign Judgments & Arbitral Awards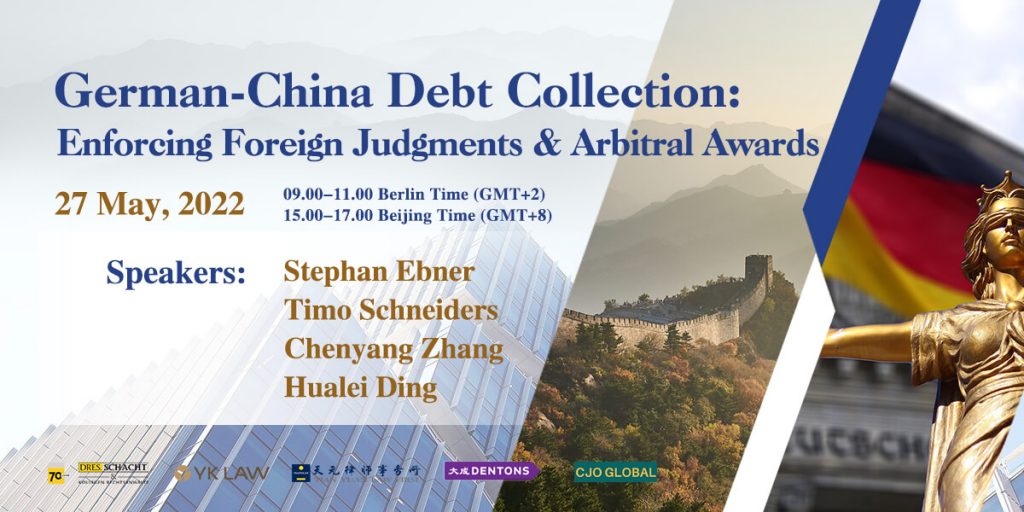 Friday, 27 May 2022, 09:00-11:00 Berlin Time (GMT+2) /15:00-17:00 Beijing Time (GMT+8)
Zoom Meeting (Simultaneous interpretation will be provided in English and Chinese)
Ready to collect your debts overseas? What's next if you already have a winning court judgment or arbitral award, but the debtor's assets are located thousands of miles away in a foreign country (eg. China, Germany)?
Four industry leaders from China and Germany, Chenyang Zhang, Partner of Tian Yuan Law Firm (China), Hualei Ding, Partner of Dentons Beijing (China), Timo Schneiders, Managing Partner of YK Law Germany, Stephan Ebner, German-US-Attorney-at-Law at DRES. SCHACHT & KOLLEGEN (Germany), will discuss whether and how foreign judgments and awards can be enforced in the two jurisdictions, a rising sector in international debt collection.
The webinar is organized by CJO GLOBAL, in cooperation with Tian Yuan Law Firm, Dentons Beijing, YK Law Germany, and DRES. SCHACHT & KOLLEGEN.
Webinar Highlights
Trends of enforcing foreign judgments/arbitral awards in China and Germany
Possibility of debt collection through international enforcement of judgments and arbitral awards
Toolkits and to-do list for debt collection in both jurisdictions
Please register via the link below.
https://us06web.zoom.us/meeting/register/tZwvde6hrDwiGdDeZo4Lo8b6_d0ln28SXU03
---
SPEAKERS (in the Agenda's order)
Chenyang Zhang (China)
Partner of Tian Yuan Law Firm
Chenyang Zhang is a partner of Tian Yuan Law Firm. Before joining Tian Yuan, Mr. Zhang worked at King & Wood Mallesons as a lawyer and Yuanhe Partners as a partner respectively. Mr. Zhang has been focusing on cross-border debt collection for almost 10 years. His area of practice includes litigation and arbitration related to international trade and investment, recognition and enforcement of foreign judgments and arbitral awards in China, dissolution and liquidation of enterprises and etc. In addition, Mr. Zhang is experienced in commercial background investigation and evidence collection.
Mr. Zhang's clients include large-scale Chinese enterprises such as Sinopec, CNOOC, Industrial and Commercial Bank of China, Capital Airport Group, Cinda Investment, as well as trading and investment enterprises from the US, Germany, Australia, India, Turkey, Brazil, UAE, Thailand, Malaysia, Singapore and other countries or regions. Through negotiation, litigation, arbitration and other means, Mr. Zhang has successfully recovered the debt against companies in Mainland China for plenty of foreign creditors. Focusing on research of private international law, Mr. Zhang obtained bachelor's and master's degrees in law from China Foreign Affairs University. Mr. Zhang used to serve as an expert witness on laws of Mainland China in a case heard by the Hong Kong International Arbitration Centre.
Hualei Ding (China)
Partner of Dentons Beijing
Hualei (Eric) Ding is an attorney at law at Dentons, starting practicing careering from 2008. His Chief practice areas are: foreign investment, overseas investment, real estate and construction, international trade, corporation and litigation and arbitration concerning foreign affairs.
Mr. Ding has advised and represented clients in a broad range of industries, including investment, finance, real estate, construction, IT, aviation, medicine, petroleum, environmental protection, manufacturing, retail, telecommunications, chemical, culture and education, publishing and media, railway logistics.
Timo Schneiders (Germany)
Managing Partner, Lawyer, Mediator, Data Protection officer of YK Law Germany
Timo Schneiders is a managing partner, lawyer, mediator and data protection officer. Timo Schneiders completed his law degree at the very renowned University of Passau in 2018. Since then, he has honed his legal skills at Reidel & Kollegen Rechtsanwaltsgesellschaft and gained his first practical experience as a prospective lawyer. In spring 2018 he joined the legal preparatory service at the Free State of Bavaria. In the higher regional court district of Munich, he successfully completed the various stages of the legal clerkship. During this time he also continued to work at the aforementioned law firm and successfully completed the training at MuCDR to become a business mediator. In summer 2020 he passed the last assessor examination and then applied to the Düsseldorf Bar Association for admission to the bar.
In January 2021, Mr. Schneiders started working as a freelance lawyer. Shortly afterwards he founded YK Law Rechtsanwaltsgesellschaft mbH together with Mr. Lu. In addition to his legal and managerial work, he passed the test to become a TÜV-certified data protection officer in July 2021. His main focus recently is corporate law.
Stephan Ebner (Germany)
German-US-Attorney-at-Law at DRES. SCHACHT & KOLLEGEN – Germany
Dr. Stephan M. Ebner is a German-US-Attorney-at-Law who is offering together with DRES. SCHACHT & KOLLEGEN all kinds of international legal services to corporate clients. He is also the Of Counsel of YINGKE LAW, USA, Germany, New York City, Duesseldorf and the General Counsel of Kuechen Quelle GmbH, Nuernberg.
In addition to being registered as a lawyer in Germany, Dr. Ebner is also admitted as an Attorney-at-Law in the USA, specifically in the State of New York. In the context of his dissertation, he dealt with questions of international tax law within the legal relations between the US, England and Germany. In particular, Dr. Ebner's abroad experience is of benefit in the corporate field with regard to legal issues such as liability avoidance for managing directors, board members, supervisory board members, company formations abroad, as well as international contract drafting. Further focal points are cross-border corporate transactions, mid-cap transactions for corporate groups, negotiating/assisting with the purchase of businesses, assisting in the formation of (cross-border) joint ventures, management buy-ins/outs, private equity and real estate transactions globally. The focus of his activities is on the Asian markets and North America.